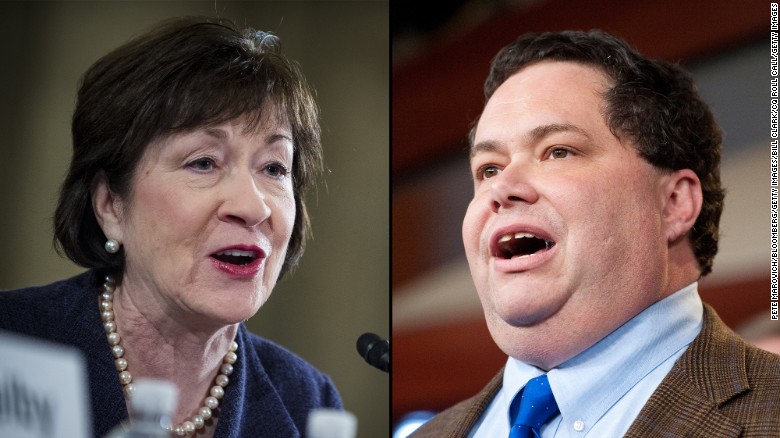 Washington (CNN) Two Republican members of Congress — Sen. Susan Collins and Rep. Blake Farenthold — have apologized to each other following a series of verbal jabs over the past week, spokespeople for both lawmakers told CNN on Tuesday.
Collins was apparently captured on a hot mic Tuesday calling Farenthold, a Texas congressman, "so unattractive it's unbelievable" after he said last week that he would duel the GOP holdouts on the Senate health care efforts if they were men from his home state of Texas rather than women.
"Did you see the one who challenged me to a duel?" Collins said at a Tuesday hearing, according to audio posted to the website of the Senate appropriations committee Subcommittee on Transportation, Housing and Urban Development and Related Agencies.
"Trust me, you know why he challenged you to a duel? Because you could beat the s— out of him," the top Democrat on the committee Sen. Jack Reed is heard responding.
Collins asks him if he's seen a picture of Farenthold posing in pajamas with a woman in lingerie. The picture appears to be from a 2009 costume party fundraiser, according to the Houston Chronicle. "A week doesn't go by it doesn't show up on Twitter," Farenthold told the paper in 2015.
Collins is heard saying Farenthold is "so unattractive it's unbelievable … Did you see the picture of him in his pajamas next to this bunny."
An edited version of the hearing without those comments has apparently since replaced the original audio on the committee's website. When CNN asked whether the audio had been removed, the committee answered, "The committee posts gavel-to-gavel video or audio coverage of its open hearings and markups."
"Neither weapons nor inappropriate words are the right way to resolve legislative disputes," Collins told CNN in a statement, provided by a spokeswoman later Tuesday. "I received a handwritten apology from Rep. Farenthold late this morning. I accept his apology, and I offer him mine."
Farenthold spokesperson Stacey Daniels told CNN the congressman does not have any comment on Collins' remarks but confirmed the apology.
"Sen. Reed was just letting Sen. Collins know he's in her corner," Reed's spokesman Chip Unruh said in a statement. "He has said it publicly and privately: the Trump Administration is behaving erratically and irresponsibly. For the good of the country, the President needs to start focusing on the budget."
On Friday, Farenthold of Texas said in a radio interview he might "settle this Aaron Burr-style" — an apparent reference to the 1804 duel when Burr killed Alexander Hamilton — if GOP holdouts on the Senate health care efforts were men from his home state of Texas rather than women.
"Listen, the fact that the Senate does not have the courage to do some of the things that every Republican in the Senate promised to do is just absolutely repugnant to me," he told Texas radio host Bob Jones on "Keys 1440 AM." "Some of the people that are opposed to this — there are some female senators from the Northeast — if it was a guy from South Texas, I might ask him to step outside and settle this Aaron Burr-style."
Farenthold said in a statement to CNN Monday night that his comment was "clearly tongue-in-cheek."
Collins first responded to Farenthold's duel comment in a milder statement to CNN Monday night. "In 20 years in the Senate, I have had a lot of people make suggestions about how to resolve legislative disputes, but until today nobody had ever suggested a duel," she said.
CNN's Jeremy Herb contributed to this report.